Slane Castle Whiskey Distillery Tour
Join a guided tour of the Slane Castle Whiskey Distillery located within the 250-year-old stables of the iconic Slane Castle estate. Allow the storyteller guides to immerse you into the wonderful world of Slane Irish Whiskey.
The fabrics of the Conyngham family tapestry are carefully woven through an interactive and immersive tour of the state of the art working distillery at Slane Castle.
Finish the whiskey tour in the best way possible, with a taste of the signature triple casked blend, Slane Irish Whiskey.
Tour duration: 1 hour, Price €18 per person.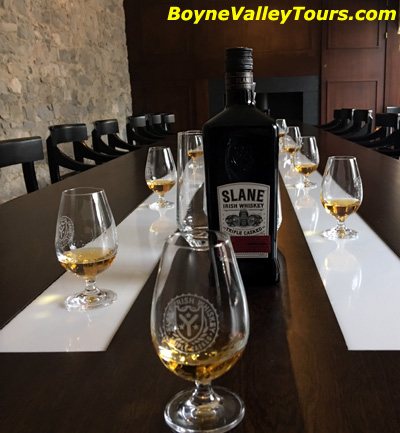 Slane Whiskey Distillery and visitors centre is located in the stables of Slane Castle which date back to the mid 1700's. Additional buildings have been sensitively constructed behind the Georgian period stables.
Slane Castle Irish Whiskey was initially conceived by the owner of Slane Castle, Lord Henry Mount Charles and his son, Alex Conynham. Slane Castle Irish Whiskey was launched in 2009. It was distilled on behalf of the family by Cooley Distillery The building of Slane Castle Distillery received a major boost in 2015 when the US company Brown Forman, makers of Jack Daniels whiskey invested 50 million dollars in the project.
Slane Irish whiskey is triple-casked in virgin American oak casks, seasoned Tennessee whiskey casks and in Spanish sherry casks.
Slane Castle whiskey was originally launched by the Conyngham family in 2009. It was distilled on behalf the Conyngham family by Cooley Distillery.
SLANE CASTLE IRISH WHISKEY and associated marks and logos are registered trademarks and are used under license.
© 2018 Slane Castle Irish Whiskey Limited
All Rights Reserved

Email
BoyneValleyTours@gmail.com
Phone within Ireland
087 8354805
International
+353 87 8354805
USA/Canada
011 353 87 8354805
Hill of Slane - where St. Patrick lit the Paschal Fire in 433AD
Slane Castle - the family home of the Conyngham family since the 18th century.

Email
BoyneValleyTours@gmail.com
Phone within Ireland
087 8354805
International
+353 87 8354805
USA/Canada
011 353 87 8354805
Boyne Valley Tours
Privacy, Terms and Conditions