Dowth Stone Age Passage Tomb
Dowth is a Neolithic (Stone Age) passage tomb located in the Boyne Valley. Dowth is one of the three principal tombs of the Brú na Bóinne World Heritage Site, the others being
Newgrange
and
Knowth
.
Dowth is not on the official tour from the Brú na Bóinne Visitor Centre. Visitors to Dowth can drive directly to the site on the north bank of the river, a few kilometres from the Slane to Drogheda road. There is no public access to the two passage chambers at Dowth; however visitors will be rewarded with a real sense of a spiritual connection to this ancient site as they ramble around the usually peaceful mound.
The Dowth mound is about 85 metres (280 ft) in diameter and 15 metres (50 ft) high. The mound is surrounded by large kerbstones, some of which are decorated. Unlike at Newgrange and Knowth many of the kerbstones are partially or completely buried. Quartz was found outside the kerbstones, suggesting that the entrance to the tombs were surrounded by a glittering white façade like at Newgrange.

The mound was subjected to a very unprofessional excavation in 1847, two passage tombs were discovered but the mound was severely damaged in the process. The passage tombs are much less spectacular than Newgrange or Knowth with shorter passages and lower roofs. Both are on the western side of the mound, they are referred to as Dowth North and Dowth South.
The Dowth North passage is 14 metres (46 feet) in length, the chamber is cruciform in shape with an annex off the right hand recess, the chamber roof is corbelled and is 3 metres (10 feet) high.
The Dowth South passage is only 3.5 metres (11.5 feet) in length with a simple circular chamber and a single recess to the right; the original roof collapsed long ago and has been replaced by a concrete roof. Dowth South is aligned to the setting sun on the evenings around the
winter solstice
.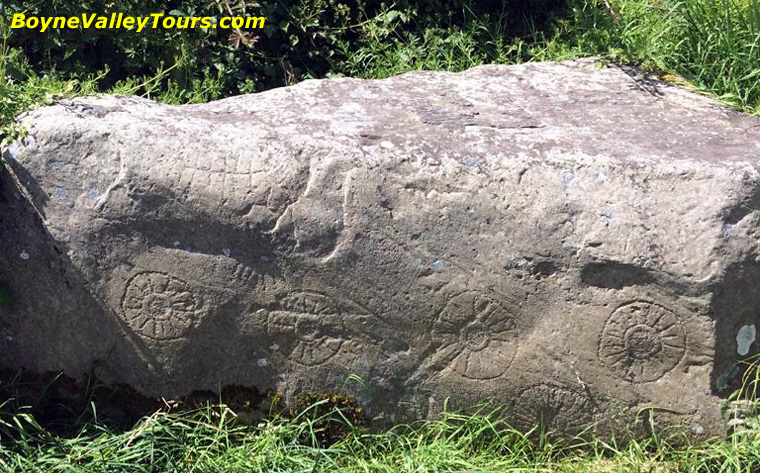 Dowth Kerbstone 51 - The Stone of the Seven Suns.

Boyne Valley Tours
Privacy, Terms and Conditions