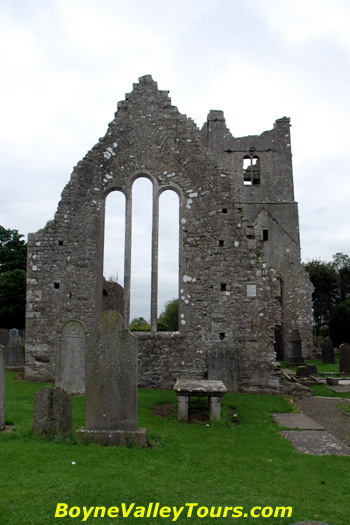 Duleek Abbey
Duleek (Damhliag in Irish) means house of stones, referring to an early stone-built church, St Cianan's Church. It began as an early Christian monastic settlement. Saint Patrick established a bishopric here about 450 AD, which he placed in the care of St. Cianan. Duleek was attacked several times by the Norsemen between the 9th and 12th centuries.
St Mary's Abbey
One of the great churches of the 12th century, St Mary's Abbey, was built by the Augustinians on lands presented to them by Hugh de Lacy, overlord of the Boyne Valley. In the 16th century a massive square tower was built alongside the earlier round tower. The round tower is no longer standing but the scar where it was joined onto the square tower is clearly visible on its northern face.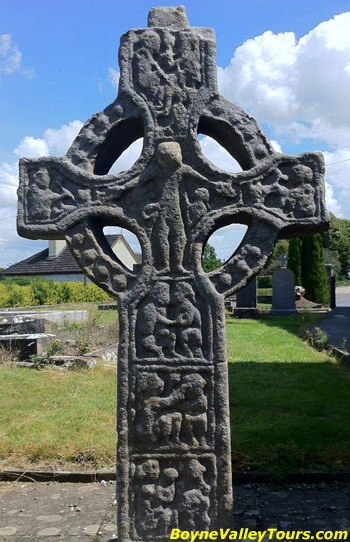 In the churchyard are two Celtic crosses, similar to the High Crosses at
Monasterboice
, they predate St Mary's Abbey and are associated with St Cianan's monastery, probably dating to the 10th century. Within the church are some early cross-slabs, a Romanesque pilaster-capital and the base and head of one of the Celtic Crosses. In the aisle are some 16th and 17th century monuments including an effigial tomb of Dr. Cusack, Bishop of Meath 1679-88.
Also in the ruined church are two tombs - one covers the remains of Lord Bellew who was killed in action at the Battle of Aughrim 1691 and a mensa-slab (altar stone) is supported by tomb-surrounds bearing the arms of Bellew, Plunkett, Preston and St Lawrence. The east window (bearing the arms of Sir John Bellew and Dame Ismay Nugent beneath it) is a 1587 post-Gothic replacement.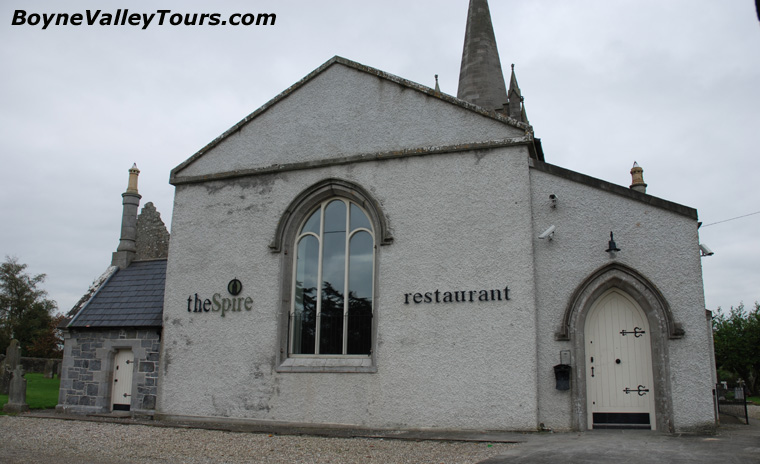 Beside the ruined abbey is St. Cianan's Church of Ireland church which was built in 1816, it is now used as a restaurant, aptly named 'The Spire'. Interred in the graveyard are the remains of Catholic, Church of Ireland and Huguenot believers.
The ruins of St Cianan's original stone church, built in 489, are to the northwest of St Mary's Abbey and across the road from it.
Boyne Valley Tours

Email
BoyneValleyTours@gmail.com
Phone within Ireland
087 8354805
International
+353 87 8354805
USA/Canada
011 353 87 8354805

Email
BoyneValleyTours@gmail.com
Phone within Ireland
087 8354805
International
+353 87 8354805
USA/Canada
011 353 87 8354805
Boyne Valley Tours
Privacy, Terms and Conditions