Francis Ledwidge Museum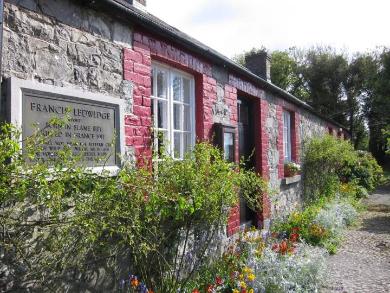 The Francis Ledwidge Museum near the village of Slane is the birthplace of World War I poet Francis Ledwidge. The cottage museum is a fine example of a 19th century farm labourer's cottage and houses the poet's works and artefacts from World War I alongside memorabilia of the period.
In the tranquil garden to the rear of the museum stands a replica of an original monument commissioned and erected by the City of Ieper, Belgium, at the exact spot where the poet was killed. Francis Ledwidge was known as the Poet of the Blackbird was killed at the third battle of Ypres on the July 31st 1917 just seventeen days before his thirtieth birthday.
Francis Ledwidge was the eighth of nine children in a poverty-stricken family. His parents, Patrick Ledwidge and wife Anne Lynch believed in giving their children the best education they could afford. But when Francis was only five his father Patrick died prematurely, which forced his wife and the children out to work at an early age. Francis left the local national school aged thirteen, and while he continued to educate himself, he worked at what work he could find, as farm hand, road mender and supervisor of roads, as copper miner and shop assistant. Appointed secretary of the Slane branch of the Meath Labour Union (1913–14) he had aspirations of permanent white-collar work.
Strongly built, with striking brown eyes and a sensuous face, Ledwidge was a keen poet writing where ever he could – sometimes even on gates or fence posts. From the age of fourteen his works were published in his local newspaper, the Drogheda Independent reflecting his passion for the Boyne Valley. While working as a road labourer he won the patronage of the writer, Lord Dunsany, after he wrote to him in 1912, enclosing copybooks of his early work. Dunsany, a man of letters already well known in Dublin and London literary and dramatic circles, and whose own start in publishing had been with a few poems, promoted him in Dublin and introduced him to W.B. Yeats with whom he became acquainted.
Dunsany supported Ledwidge with money and literary advice for some years, providing him with access to and a workspace in Dunsany Castle's Library where he met the Irish writer Katharine Tynan, corresponding with her regularly. Dunsany later prepared his first collection of poetry Songs of the Fields, which successfully appealed to the expectations of the Irish Literary Revival and its social taste for rural poetry.
Ledwidge was a keen patriot and nationalist. His efforts to found a branch of the Gaelic League in Slane were thwarted by members of the local council. The area organiser encouraged him to continue his struggle, but Francis gave up. He did manage to act as a founding member with his brother Joseph of the Slane Branch of the Irish Volunteers (1914), a nationalist force created in response to the arming of the Ulster Volunteers who swore to resist the introduction of Home Rule for Ireland by force, if need be. The Irish Volunteers were set up to prevent their belligerence and to ensure democracy would prevail.
On the outbreak of World War I in August 1914, and on account of Ireland's involvement in the war, the Irish Volunteers split into two factions, the National Volunteers who supported John Redmond's appeal to join Irish regiments in support of the Allied war cause and those who did not. Francis was originally of the latter party. Nevertheless, having defended this position strongly at a local council meeting, he enlisted in 1914 in Lord Dunsany's regiment, joining 5th battalion Royal Inniskilling Fusiliers, part of the 10th Irish Division. This was against the urgings of Dunsany who opposed his enlistment and had offered him a stipend to support him if he stayed away from the war. Some have speculated that he went to war because his sweetheart Ellie Vaughey had found a new lover, John O'Neill, whom she later married, but Ledwidge himself wrote, and forcefully, that he could not stand aside while others sought to defend Ireland's freedom. Poetry and war
Ledwidge seems to have fitted into Army life well, and rapidly achieved promotion to lance corporal. In 1915, he saw action at Suvla Bay in the Dardanelles, where he suffered severe rheumatism. Having survived huge losses sustained by his company in the Battle of Gallipoli, he became ill after a back injury on a tough mountain journey in Serbia, a locale which inspired a number of poems.
Ledwidge was dismayed by the news of the Easter Rising, and was court-martialled and demoted for overstaying his home leave and being drunk in uniform in May 1916. He gained and lost stripes over a period in Derry, and then, returned to the front, received back his lance corporal's stripe one last time in January 1917 when posted to the Western Front, joining 1st Battalion, Royal Inniskilling Fusiliers, part of 29th Division.
Ledwidge continued to write when feasible throughout the war years, though he lost much work, for example, in atrocious weather in Serbia. He sent much of his output to Lord Dunsany, himself moving on war assignments, as well as to readers among family, friends and literary contacts.
On 31 July 1917, a group from Ledwidge's battalion of the Royal Inniskilling Fusiliers were road-laying in preparation for an assault during the Third Battle of Ypres, near the village of Boezinge, northwest of Ieper (Ypres). While Ledwidge was drinking tea in a mud hole with his comrades, a shell exploded alongside, killing the poet and five others. A chaplain who knew him, Father Devas, arrived soon after, and recorded "Ledwidge killed, blown to bits."
The poems Ledwidge wrote on active service revealed his pride at being a soldier, as he believed, in the service of Ireland. He wondered whether he would find a soldier's death. The dead were buried at Carrefour de Rose, and later re-interred in the nearby Artillery Wood Military Cemetery, Boezinge. A stone tablet commemorates him in the Island of Ireland Peace Park, Messines, Belgium.
Much of Ledwidge's work was published in newspapers and journals in Ireland and the UK. The only work published in book form during Ledwidge's lifetime was the original Songs of the Fields (1915), which was very well received. The critic Edward Marsh printed three of the poems in the Georgian Poetry series, and remained a correspondent for the remainder of Ledwidge's life. A second volume, Songs of Peace was in preparation when Ledwidge died; patron and friend Lord Dunsany wrote the introduction while both were in Derry in September 1916.
Following the war, Dunsany arranged for more of Ledwidge's work to be published, first in a third and final new volume, Last Songs, and then later in an anthology in 1919; he commented on the work with words such as: "I was astonished by the brilliance of that eye and that had looked at the fields of Meath and seen there all the simple birds and flowers, with a vividness which made those pages like a magnifying glass, through which one looked at familiar things for the first time."

Email
BoyneValleyTours@gmail.com
Phone within Ireland
087 8354805
International
+353 87 8354805
USA/Canada
011 353 87 8354805
Boyne Valley Tours - Trip Advisor
"Highly recommended for a great day out. The four of us had a great day out with Michael, visiting various historical sites ranging from Newgrange (3200BC) through to the Battle of the Boyne (1690). Michael was great company and couldn't do enough to ensure we enjoyed our day. At each site he organised everything to ensure we got the most out of our visit, arranging video presentations and tour guides and getting us ahead of larger groups."
More ...
"Fantastic Private Tour with Michael. My husband and I stayed at the Trim Castle Hotel, which made it easy to get an early start on our day tour. He picked us up in his immaculately clean car and we headed for Newgrange. There was an erie to the site, and we felt a connection to the past while the two of us lingered alone inside the chamber with the Newgrange guide. After hearing about our other interests, Michael took us to Dowth, Fourknocks, the Hill of Skeen, O'Connell's pub, the crosses and round tower at Monasterboice. Michael has lived in the Boyne Valley his entire life, and his knowledge of the area, and all of the amazing sites to see is second to none. If you are lucky enough to have the opportunity to book a personal tour with Michael, you should take it! It's like having your best friend show you around."
More ...

Email
BoyneValleyTours@gmail.com
Phone within Ireland
087 8354805
International
+353 87 8354805
USA/Canada
011 353 87 8354805
Boyne Valley Tours
Privacy, Terms and Conditions