Boyne Valley Gardens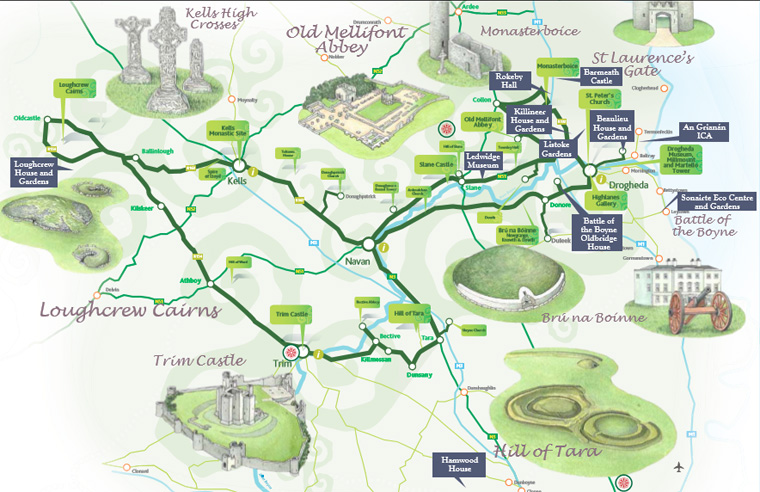 Boyne Valley Gardens - Co. Meath
Balrath House and Courtyard
Balrath House is a charmingly pretty Georgian home built in c. 1760. Adjoining the house is a traditional farmyard with stone outhouses and a coach house with many original features, now lovingly restored into 4 star self-catering accommodation. The mature walled garden is set in 1.5 acres, surrounded by 20.5 acres of grassland overlooking the River Nanny.
Battle of the Boyne Visitors Centre
Victorian Walled Garden, Double Peach House, Dog Kennels and Octagonal Sunken Gardens lie awaiting your discovery at the
Battle of the Boyne
Visitor Centre – Oldbridge House.
Situated in the famous bend of the Boyne and laid out on the famous battle site, the grounds of the Oldbridge Estate offer walks through the 18th and 19th century garden landscape. The Gardener's Bothy now houses a permanent exhibition about the Walled Gardens at Oldbridge and others along the East coast.
In addition to the very old espalier Pear Trees, one hundred Blood of the Boyne apple trees have been planted in the walled garden and we are eagerly anticipating their first crop. The recently planted herbaceous border contains many traditional plants and flowers and some medicinal plants too.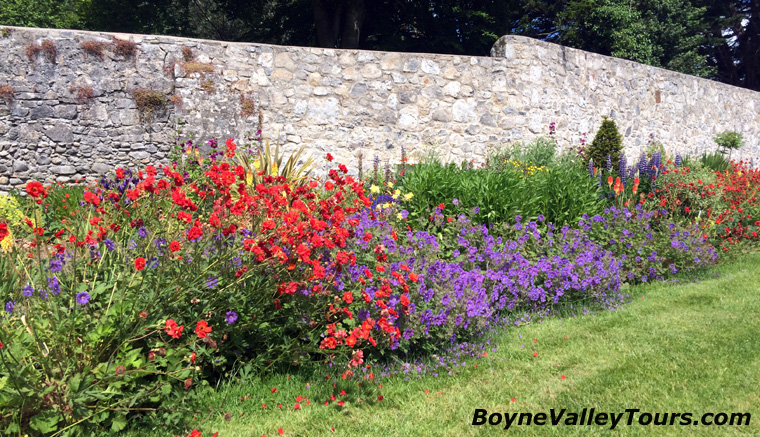 Bramley Cottage, Jane McCorkell's Garden (Open by Appointment)
Six times Bloom Gold Medal winner, Jane McCorkell's garden is set is an idyllic acre of landscape surrounding her early C18th farm house. Over ten years of passion and hard work have gone into creating a series of garden 'rooms' and with large perennial borders, which will utterly delight garden enthusiasts.
College Hill House (Open by Appointment)
Built in 1826, College Hill was the former parochial house for the Rathkenny Parish. Three acres of mature, landscaped garden surround the house.
Ledwidge Museum Slane Meath
The
Francis Ledwidge Museum
in Slane is the cottage birthplace of WWI poet-soldier, Francis Ledwidge. Sometimes known as 'poet of blackbird', Ledwidge's rural poetry was inspired by the flora and fauna of Meath before he was killed in action in 1917.
Ledwidge's cottage a perfect example of a 19th century farm labourer's home and houses the poet's works and artefacts from World War I, alongside memorabilia of the period.
The garden to the rear of the museum is a haven of tranquillity. In springtime it radiates with colour from daffodils, bluebells and primroses. The roses are a delight in summer along with all the other cottage garden flowers.
Loughcrew House and Gardens
Take a walk through centuries of garden and landscape fantasy. The central area of approximately six acres includes a lime avenue, extensive lawns and terraces, magnificent herbaceous border and physic border. Within the gardens stand a medieval mote and St. Oliver Plunkett's family church and Tower House.
A host of enchanting features are displayed in a setting steeped in atmosphere and history. Meet Alice as she strolls through wonderland, encounter fairies and other creatures on woodland walks. The result of years of restoration can be seen in this stunning garden comprising a magnificent yew walk, a walled garden, a canal and a parterre.
At the entrance to the gardens sits our coffee shop located in a lovely wooden chalet for a delicious coffee and scrumptious lunch.
Sonairte Visitor Eco-Centre and Gardens
Sonairte is a great place for a day out for all the family. See the 18th century 1.8 acre Walled Organic Garden, the Nature Trail alongside the River Nanny and our Bee Museum. Our Sunflower Cafe and Eco Shop have a wide selection of Irish food and Fair trade gifts.
Talbot Castle, Trim, Co. Meath
Talbot castle is a fortified manor house built in 1415, situated on the site of St Mary's Abbey overlooking the Yellow Steeple of Trim Castle. Once used as a school, past pupils include the Duke of Wellington and Sir William Rowan Hamilton. Today, visitors can visit its steeply sloped walled garden, where the owners have planted a wide variety of fruit and vegetables, while enjoying a view of the River Boyne nearby.
Tankardstown House (Open by Appointment)
Set on an 80 acre estate, Tankardstown is a classic Georgian manor house owned by Brian and Patricia Conroy. Its luxurious interiors, elegant orangery and chic courtyard suites, make Tankardstown a truly special place to stay close to the village of Slane.

Email
BoyneValleyTours@gmail.com
Phone within Ireland
087 8354805
International
+353 87 8354805
USA/Canada
011 353 87 8354805
Boyne Valley Gardens - Co. Louth
Barmeath Castle
Barmeath is a flamboyant castle set in over 10 acres of historic gardens over looking Dundalk Bay. One can explore the many paths around the lake, walled garden, archery ground, wild garden and woodland. Home to the Bellew family since the 1670s, the main design of the garden is by Thomas Wright who came to Ireland in 1745.
The grounds feature a lake, islands and a rustic rock bridge, which is typical of Wright's work. The pleasure gardens around the lake are full of beauty and interest with mature trees and a wonderful selection of rhododendron and azalea.
Within the enchanting and newly restored walled garden, there is an extensive variety of roses, fruit trees, a summer house, herbaceous border and the vegetable plot. The main garden has an 18th century archery ground surrounded by Irish Yew. The more adventurous visitor can enjoy the shady deciduous woodland beyond the garden.
The gardens were abandoned between 1920 and 1938, but were brought back to life by Jeanie Bellew, the present incumbent's grandmother. These improvements continue with Rosemary and Bryan Bellew.
Beaulieu House and Garden
Beaulieu's beautiful four acre garden was probably laid out in the early Georgian period. Set on a well drained, South facing slope, it remains true to its original grid design, with box-lined paths, herbaceous borders, vegetable plots and a hexagonal teahouse with grotto. Lovely views overlook the Boyne estuary and parkland.
If you like rare and special plants, the sheltering red brick walls of the garden make it an ideal setting for many tender species, such as abutilons, giant tree echiums and variegated mallows – all of which are flowering between May and July.
Collon House (Open by Appointment)
Collon House is situated in the centre of the pretty village of Collon. Dating back to the 1740s, it was once the home of John Foster, the last speaker of the Irish House of Commons. Today, Collon House offers award winning, boutique bed and breakfast accommodation.
Visitors wishing to see the garden, will find an secret gem designed in the style of the mid C18th, with sunken box parterres, lovely herbaceous borders and a courtyard filled with hostas. A Greek style summer house completes the picture in this truly charming retreat.
Forest Edge (Open by Appointment)
A small, prize-winning, town garden fronted by a tiered setting leading into a hidden oasis of a woodland glade, tree ferns, ponds, straight and winding paths emerging from an orangery and leading the visitor through a gentle journey of surprises and delights within a secluded and peaceful enclave to the sound of running water. A reflective, meditative, and congenial ambience created by an eclectic array of plants, flowers, shrubs and trees, especially roses, hostas, ferns and acers.
Open May-October by appointment.
Killineer House and Gardens
The Early 19th century gardens have formal paths descending from terraces and lawns to a woodland garden with walks surrounding the attractive lake and summerhouse. Original 1.5 acres walled garden with vegetables, fruit trees and herbaceous borders. Best month to visit: May for Calodendrons and Magnolias in flowers. Specimen Holly, the longest single stem example in Ireland.
Listoke House and Gardens
Beautiful Edwardian walled garden and woodland walks lovingly restored by current owner and garden designer, Patricia Barrow. Used as a film location for the 'Asterix and Obelix' movie in 2013 the garden's picturesque vistas, woodland walk, rare and special herbaceous plants, will delight any garden enthusiast. Best time to visit: May – June.
Listoke House and Gardens also hosts weddings, theatrical events, an art gallery, tea room and B/B accommodation. Please see their website for more details and information for booking enquiries, event tickets and gallery openings.
Rokeby Hall
Rokeby Hall is an 18th century country house in the Neoclassical style built for Richard Robinson, Archbishop of Armagh. Designed by Thomas Cooley and built by renowned Irish architect Francis Johnston, Rokeby is an elegant building with beautiful detailing which remains largely unchanged to this day. The focal point of the gardens is the splendid Turner conservatory which dates to the 1850s and has recently undergone a full restoration.

Email
BoyneValleyTours@gmail.com
Phone within Ireland
087 8354805
International
+353 87 8354805
USA/Canada
011 353 87 8354805
Boyne Valley Tours
Privacy, Terms and Conditions