The River Boyne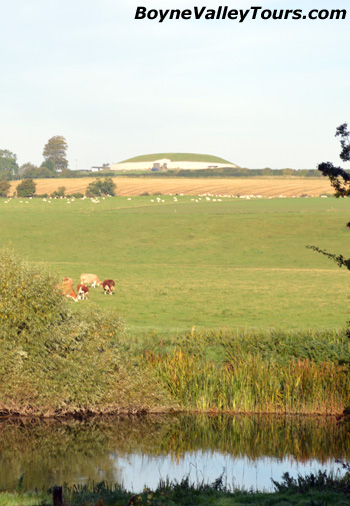 The Boyne is a river in the east of Ireland, the course of which is about 112 kilometres (70 miles) long. It rises at Trinity Well, Newberry Hall, near Carbury, County Kildare, and flows northeast through County Meath to reach the Irish Sea between Mornington, County Meath and Baltray, County Louth.
Salmon and trout can be caught in the river, which is surrounded by the Boyne Valley. It is crossed just west of Drogheda by the Boyne River Bridge that carries the M1 motorway and by the Boyne Viaduct that carries the Dublin-Belfast railway line to the east.
The River Boyne has a rich historical, archaeological and mythical heritage. The
Battle of the Boyne
, a major battle in Irish history, took place along the Boyne near Drogheda in 1690 during the Williamite war in Ireland. It passes
Trim Castle
, the
Hill of Tara
(the ancient capital of the High King of Ireland), Navan,
Ardmulchan
, the
Hill of Slane
, the ancient temples at
Newgrange
,
Knowth
and
Dowth
,
Mellifont Abbey
, and the medieval city of Drogheda. In the Boyne Valley can also be found other historical and archaeological monuments, like
Loughcrew
,
Kells
,
Celtic crosses
, castles and more.
This river has been known since ancient times. The Greek geographer Ptolemy drew a map of Ireland in the 2nd century which included the Boyne, which he called Bououinda, and somewhat later Giraldus Cambrensis called it Boandus. In Irish mythology it is said that the river was created by the queen and goddess Boann. In other legend the Boyne was in river where
Fionn mac Cumhail
captured the Salmon of Knowledge.
The
Boyne Navigation
is a series of canals running roughly parallel to the main river from Oldbridge near Drogheda to Navan. Owned by An Taisce and mostly derelict, the Inland Waterways Association of Ireland are restoring the navigation to navigable status. The canal at Oldbridge which runs through the
Battle of the Boyne
Site was the first to be restored.
View of the River Boyne and Dunmoe Castle from
Ardmulchan Church
Boyne River Source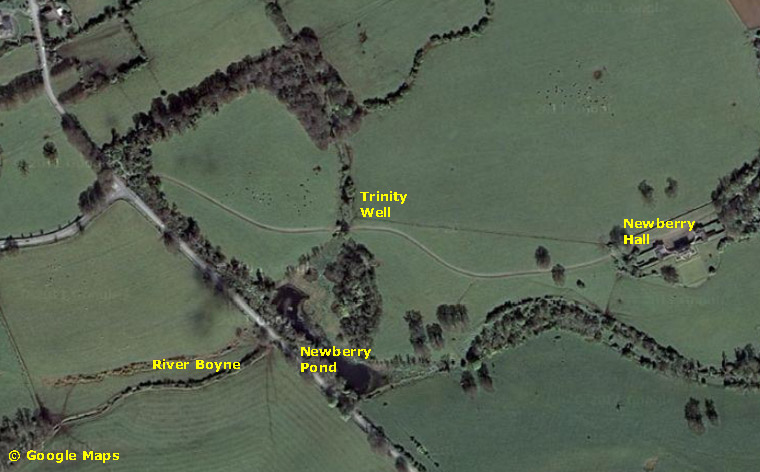 Source of the River Boyne
The River Boyne is said to rise from Trinity Well in the grounds of Newberry Hall near Carbury, County Kildare. However the stream which flows into Newberry Pond doesn't flow from the well, it flows past the well from the surrounding fields. Carbury Hall and the 400 acre estate was sold in 2010 and there is currently no public access to Trinity Well.

Email
BoyneValleyTours@gmail.com
Phone within Ireland
087 8354805
International
+353 87 8354805
USA/Canada
011 353 87 8354805
Boyne Valley Tours
Privacy, Terms and Conditions